There's an overwhelming amount of statistics for almost any industry—especially for ecommerce stats.
Researching online for the most important reports would take you multiple hours—without mentioning the outdated data that's still sold as new.
On this page, you'll find relevant, recent, and actionable ecommerce statistics for a store owner and online retailer like you. These trends define how the industry is changing and evolving for the future, and getting insights will help you make the best move for your business.
Here, we'll cover:
Current State of The Ecommerce Industry: Size, Demands, and Channels
Marketing Trends for Ecommerce Stores: Ads, Branding, and Personalization
Shopper's Online Behavior: What Consumers Really Care About
Facts About Top Ecommerce Platforms: Shopify Remains King
Current State of The Ecommerce Industry: Size, Demands, and Channels
Consumers want to keep buying online. The ecommerce industry has been growing fiercely every year, with retail sales made from all sorts of devices going up each year. The more it grows, the more it seems it will take over retail stores.
But is it really taking over retail sales? Apparently, it's not. Different from what experts would have envisioned, the ecommerce space is actually merging with the physical retail storefronts.
Customers are not quitting going to the store personally—not because they can't, but because they don't want it (especially after the pandemic). So even D2C brands who have been selling only through online channels are looking to open physical stores.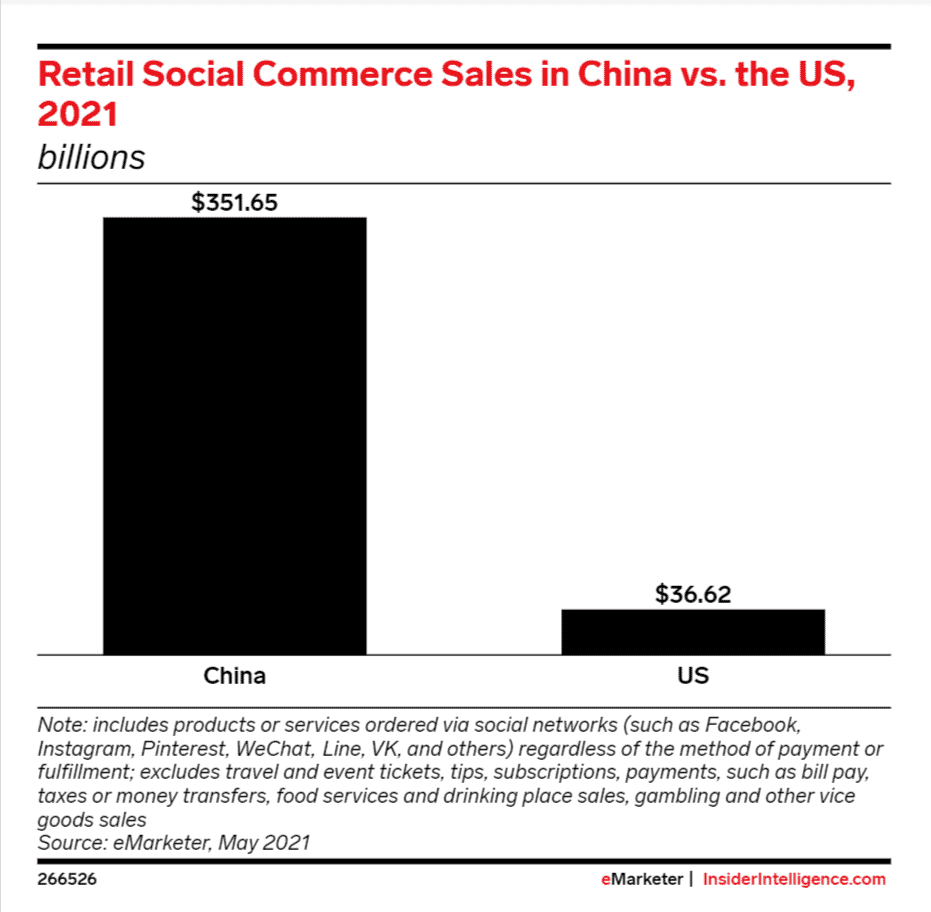 On the other hand, this trend contrasts heavily with the undeniable growth of social commerce in China—where more than half of the population makes online purchases directly from social networks—attaching their purchase behavior with their source of entertainment.
Still, we're envisioning a future where the concepts of an ecommerce business and brick-and-mortar stores will become the same, and we'll just call it "commerce."
Marketing Trends for Ecommerce Stores: Ads, Branding, and Personalization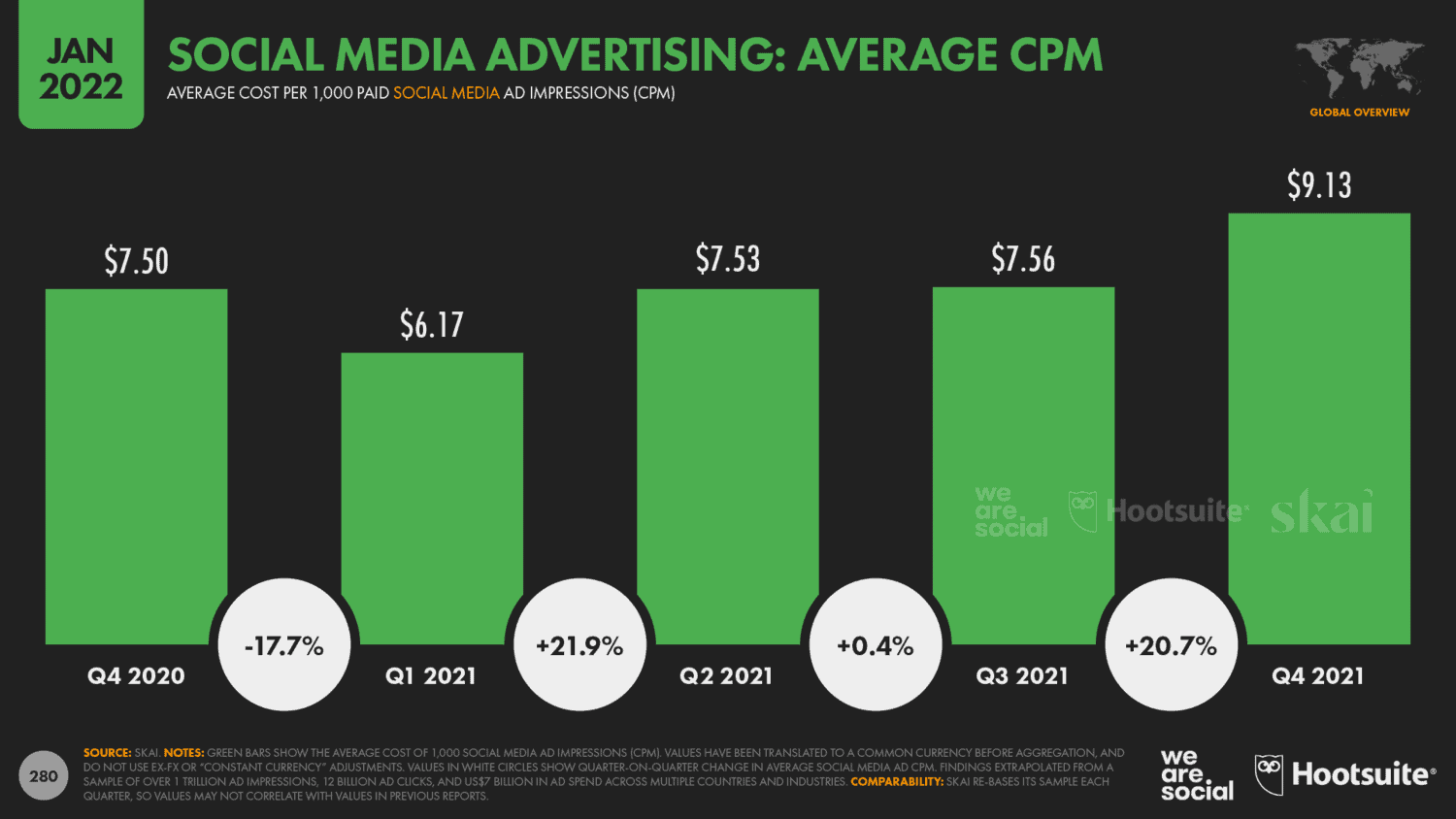 Every year, the annual investment in social ads grows aggressively, the cost per click rises, the competition becomes fiercer, and it's harder to make positive ROI.
And there's no sign that brands will stop this tendency. If they don't invest more in Facebook ads, they'll increase their budget for paid search ads—even if it's at the expense of cutting the budget for other marketing channels.
While most brands with lower budgets will cut their investments in brand building, most marketers will agree that branding is essential for businesses—even more so since the pandemic.
This contradiction seems to confirm that it doesn't matter how important we believe branding is. Changing habits and stepping back from what's already working is not a comfortable option—even if the barriers are getting harder.
On the other hand, data-driven personalization was supposed to make increase in conversion rates. And it does, customers still want to receive a personalized experience.
Though there's a caveat, consumers also want brands to respect their data privacy. And with the upcoming death of third-party cookies, GDPR laws in Europe, and more people using private browsers like Brave, creating personalized marketing campaigns is not as simple as it used to be.
Now, brands will have to shift their focus toward collecting first-party data with tactics like quizzes, gated content, and website personalization tools (tactics where branding plays an indispensable role). While also improving their user experience so they can personalize their messaging from a relationship context.
These ecommerce statistics mean personalization will be more about building a strong relationship with customers rather than capitalizing on Meta's data. And now that more businesses will cut budgets for brand building, it's a great moment to invest in branding strategies with less competition for attention.
Shopper's Online Behavior: What Consumers Really Care About
Online consumers are paradoxically more concerned about their data privacy while also expecting a personalized experience from brands.
They're not closing themselves from brands. They're simply asking businesses to be more transparent with what they do and their values. They're still willing to share their info, given that they know who's going to use it—such as brands with sustainable business models.
Still, online shoppers are wary of brands who over-personalize their marketing to an individual level—getting creeped out to the point that they'd prefer buying from a website with zero personalization.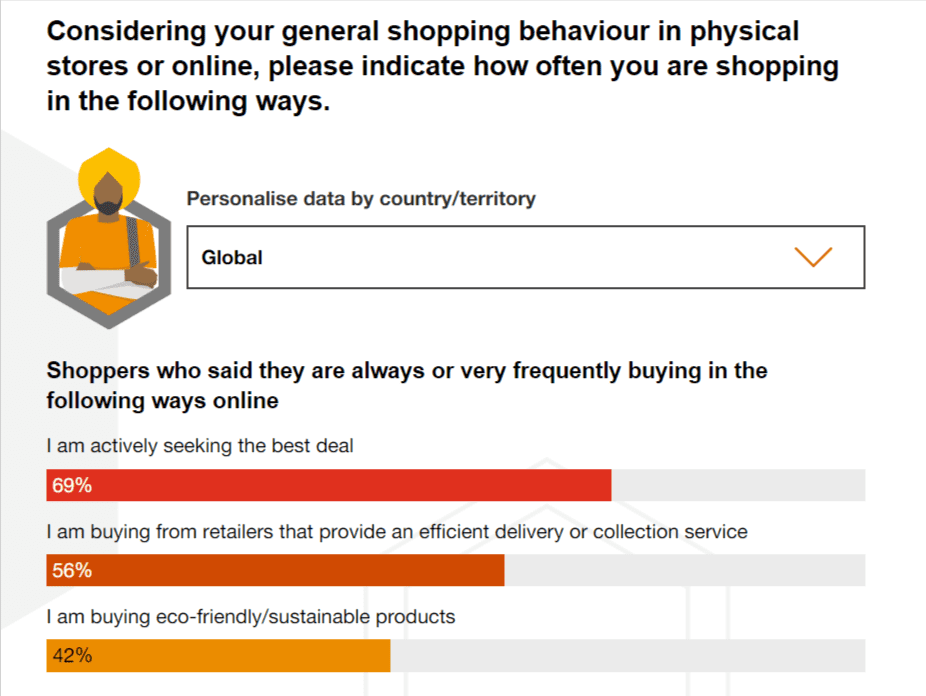 For most ecommerce businesses, this means you should be more open with your audience about your brand values, what you stand for, how eco-friendly your products are, and how you use customers' data to improve user experience.
However—something about consumer behavior that will never change—pricing and convenience will always be the top priority for digital buyers when shopping.
So if being transparent comes with extra costs for you, don't make customers pay for it by increasing your prices—instead, do the work to optimize your business.
It's another reason both consumers and brands have to take eco-friendly initiatives. As one without the other simply won't make a change.
Facts About Top Ecommerce Platforms: Shopify Remains King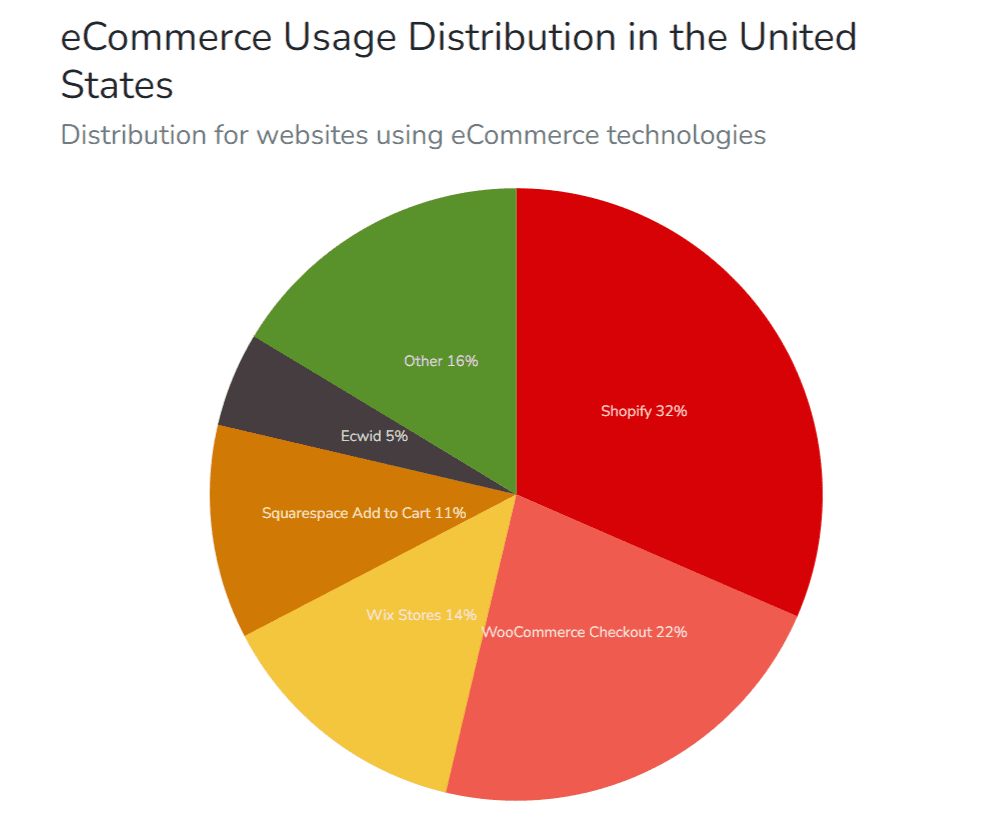 Shopify's annual growth rate is directly proportional to the growth of the ecommerce industry. The more people are engaged with ecommerce, the more they'll be compelled to open their own store.
Its increase in revenue is in rapid growth, to the point that it made three times more revenue in 2021 than it did in 2019.
Its popularity is well deserved, however. Shopify makes it easy for anyone with internet connection to open an online store extremely quickly—especially if you go over the dropshipping route. It's widely recognized as the most beginner-friendly platform to start a profitable ecommerce business.
Shopify's product, user experience, and branding make you want to create an online shop just for the fun of it—they're masters of making their brand a synonym of quality.
Behind Shopify, you can find other big platforms like BigCommerce, Magento, or Shopware with high standards. But the fact that they serve specific niches in the ecommerce market means that Shopify is the default option for the majority.
The only other alternative following Shopify is WooCommerce, as it powers just a few hundred thousand fewer websites than Shopify. The big difference is that it is an open-source platform made for those who prefer using WordPress and developers who can customize it to their likings.
Other than that, Shopify remains king in the platform market as of 2022.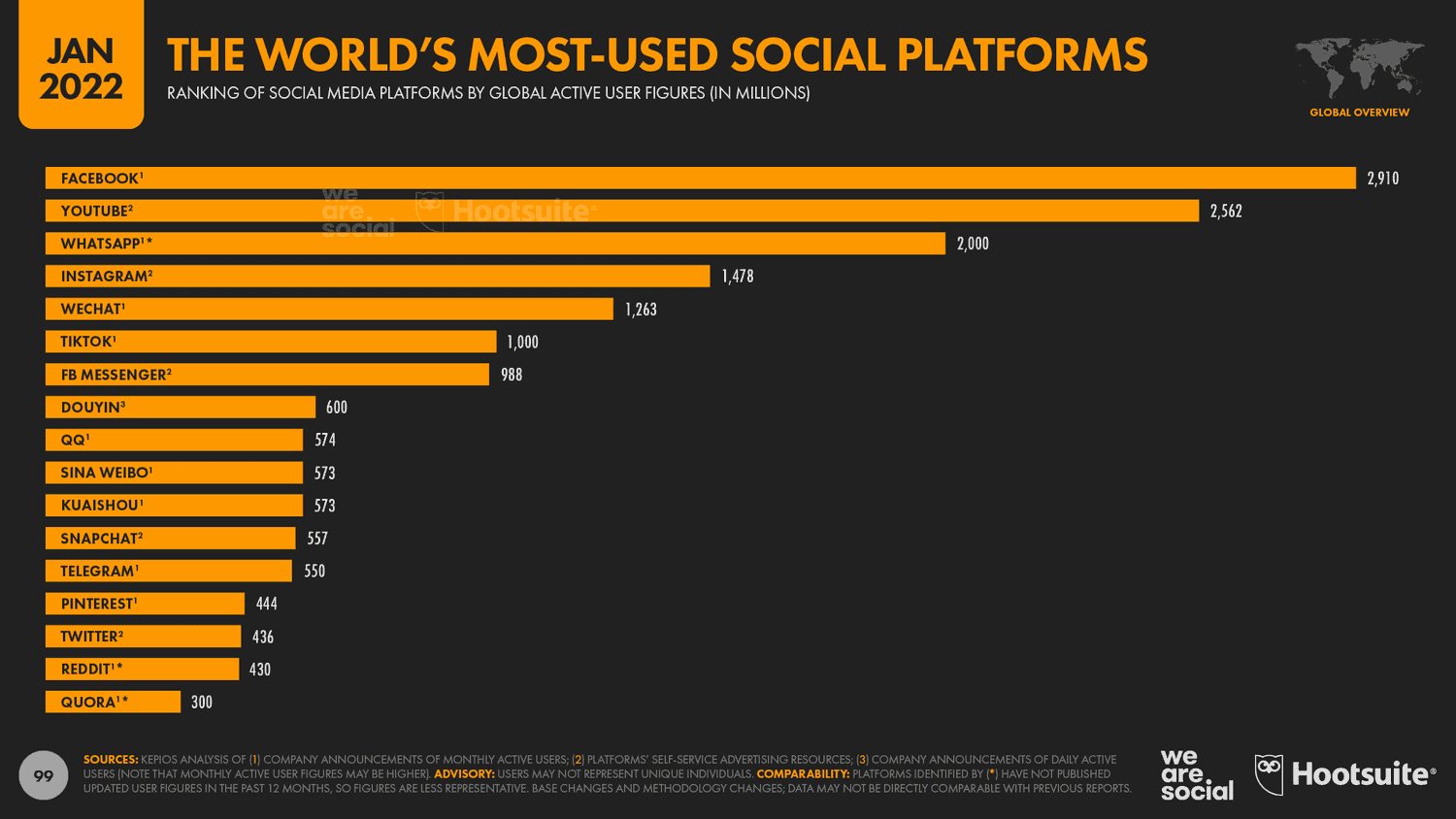 Social media platforms' tendency was to make it harder for businesses to get organic traffic from them, disincentivizing users to leave their platform and land on third-party websites.
Now, these platforms are instead "satisfying" everyone by allowing brands to sell their products directly from their platform—so there's no need for online shoppers to visit the brand's website in the first place.
More than half of humanity is on social media. The traffic volume they handle is so unbelievable that other platforms such as Telegram and Twitter struggled to deal with traffic spikes the day Facebook was down. And now, brands are taking on the exposure opportunities that social network offers with product tags on Instagram and Facebook shops.
Even if social commerce here is nowhere near as ingrained as in China, online customers are actively using social media to engage with brands and find products to buy.
Platforms like Facebook Marketplace, Instagram shoppable stories, and Pinterest Shops allow brands to expose their products to active buyers without using ads. Soon, we'll be treating these platforms just like your checkout process, your ecommerce marketplace on Amazon, or brick-and-mortar shop.
This social commerce trend—plus the increase in social ad investments—makes social networks essential for every marketing strategy.
Summary
With so many trends to catch up for and ecommerce becoming an essential part of our lives, it's easy to lose track.
So, in summary, we can take these ecommerce stats and summarize them in these few insights:
Ecommerce sales are growing but not replacing offline shopping. Instead, they're merging to become "commerce."
Branding is essential to create a great online shopping experience, as building a strong relationship with customers will allow you to leverage personalization when third-party data becomes unreliable.
Personalization works best when combined with healthy customer relationships, as customers will prefer a personalized experience from brands they like.
Transparency is vital for building customer relationships and influencing their buying decisions. However, it's not as impactful as pricing and convenience.
Shopify remains the top ecommerce platform in the market.
Social media is becoming a legitimate retail sales channel for ecommerce businesses. Soon, they'll become completely integrated.
These ecommerce statistics are just one perspective on how the industry is evolving. There's still more data to look after and insights to uncover.
Plus, this page by no means covers every single aspect of the ecommerce space. So, we encourage you to keep learning from our guides and expand your perspective.