Bahman Nedaei & Zahir Dehnadi set up navabi just over 10 years ago, a pureplay ecommerce site which over the decade has sold hundreds of millions of dollars of plus size fashion, all over the world.
The company is in an area of fashion that has been tougher over the pandemic: Concentrating on smarter dresses & occasionwear, for customers who often purchase for the office and for events.
Over the pandemic, Bahman and Zahir reacquired the company from shareholders, and have moved it back to profitability and success with customers.
In this interview, Graham Charlton talks to Bahman about the journey from startup, through investment, and to the point of reacquiring and refocusing the company during the pandemic.
Just as background, how long ago did you set up the business?
We set up in 2008, 2009. My business partner Zahir had returned from business school. I'd got things started in a bit of a scrappy way: I'd been selling different product types to different customers via things like Ebay, and together we had realized that there was a large niche in women's fashion that – for some reason – bigger brands did not seem interested in.
What are a few of the highlights?
Hah that's a good question. For us personally the journey has been great. We've made a lot of friends over the years, learned a lot about business, and about partnership with investors and suppliers and customers. I think we've sold to more than a million customers, actually maybe much more, which for a 'niche' ecommerce business – ie one that has a specific type of customer – that's a lot.
Too many things to mention really.
And why did you pick the particular market – plus size women's fashion?
It was plus size fashion, but more specifically, plus size fashion of higher quality than you could find on the high street. We realized it was something for three reasons really:
First: Sales kind of took off, even we were selling at a higher price than average.
Second: Sales were coming in from various countries. I think even early on, after we'd sold maybe a few hundred orders, those had come in from a dozen or more countries. That's kind of unusual for a small business from Germany.
Third: We were literally getting love letters from some of these customers. "I'm so glad I found you!", people asking when we'd be offering more styles, etc. We weren't experienced retailers at that point, but already back then I could tell you that's not completely normal for ecommerce.
What's the journey been like since then?
We've gone through a series of phases really. All of our tech was in-house initially, and we were bootstrapped. Sales started to get out of control quite early on really, and we realised we needed some help financially to keep up ordering new stock, around distribution and fulfilment (we've largely run our own warehouses), and just around growing sensibly with advice from great investors. Over the next few years we worked with some great people – Capnamic in Germany, Index Ventures in the UK, Verdane in Stockholm – and grew to a point where I think our biggest ever weekend was something like €1.8m in sales.
How did you move from being a small bootstrapped startup, through to attracting investment from such big names?
Well I'd mentioned Capnamic there. Among other Investors, Jörg Binnenbrücker, who's the founder of Capnamic VC, basically discovered us and put us on the map. We were in Aachen, and he was based in Cologne. Zahir got in touch with him basically through his alumni network – through Philipp Moehring, who is amazing and was super helpful. Jörg is one of the greatest guys you could meet, and we still chat to him today. Sometimes I think there are people like that you connect with in your career where their input really puts you forward. I know if you read strategy books, they often talk about focusing on particular things: Working to remove risk of your company dying, working to find product market fit, etc. Behind much of that I think network is super important, as if you are surrounded by good people – whether they're in your team directly, or investors and suppliers and even customers – that sets you up for success.
Following that, Index Ventures took us to the "Champions league" basically. If you ask anyone in Europe "who would you want as an investor?" Index would be up there. They look at things very interestingly, and they have things like details on tools companies are using, or consultants they're using that can help out. That's actually how we met Dan – through Index. And Verdane helped us get to proper maturity, to look at the company almost as owners rather than working in the company.
There were various changes along the way, and lots of great team members joined along the way, and some have moved on to greatness elsewhere in the meantime. We've gone through various changes in the business model over the period too.
Can you talk about some of those changes?
Yeah sure. We've made lots of changes around product selection over the years. At the peak we were at something like 12,000 different styles on the site, each with of course the range of different sizes.
We ran a 'made to order' business for a few years, where a customer would order and we'd literally begin creating the garments when the orders came in, which then came to us from the suppliers for quality assurance, and then was delivered out to reach the customer all within about 10 days.
For a while we had a fully personalised site – where when the customer logged in, they'd each see styles ranked differently, with different pricing discounts based on their loyalty.
We focused quite a lot on innovating specifically within plus size fashion. Our first TV ad featured Ashley Graham, who later went on to become the first plus size model to appear on the cover of Vogue magazine. We ran campaigns which featured in most of the main fashion magazines in Germany, in the UK, in the States. And much more along those lines.
From the start we really recognised, and knew from close relationships with our customers, that plus size women really were badly let down by the fashion industry. That was something we went out to help fix from the very beginning. It is a strange tragedy of modern fashion that there are parts of the industry that actively make people feel bad when the purpose of fashion should be to allow people to feel great.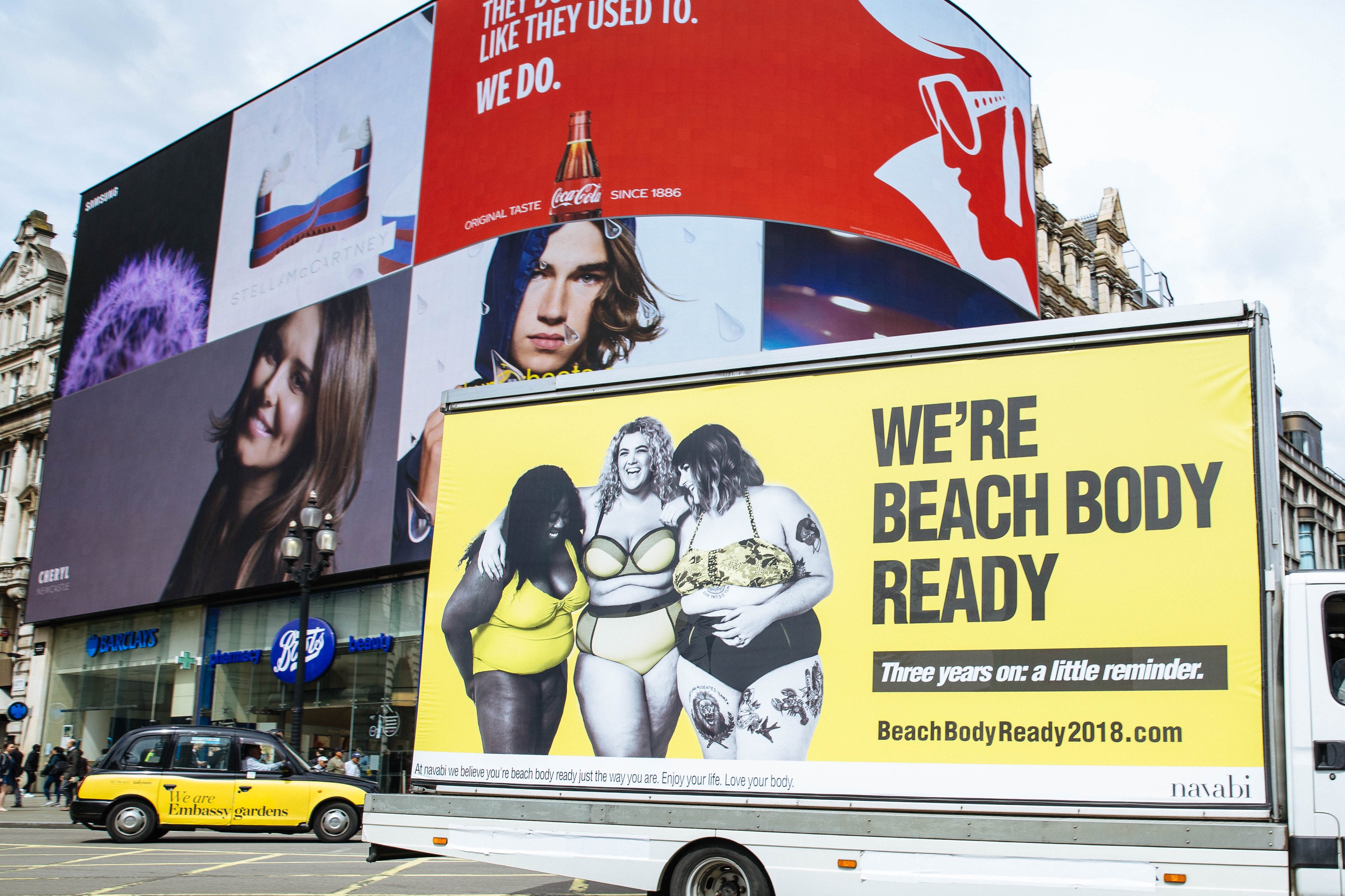 And behind all that, as you probably thought while you were reading it, much of what we've always done has been focused around the customer very specifically. We look at data a lot, we talk to customers a lot, we pay very close attention to what they want.
On every single order, we ask the customer for feedback right away, and after their delivery has taken place and they've had a chance to try on the clothes, we ask again. I think a lot of companies don't really pay attention to things like that, but – if you're an ecommerce company – your entire purpose is to make sure your customers are happy with their purchase, that they fulfil the purpose the customer wanted, whether that's performing some sort of function in their life, or making them feel great.
So that's things from a customer point of view. How is the business set up?
Well. We're all remote at the moment, as you might expect. Before the pandemic, we had an office in Cologne, an office in London, an office in the East where some of our supply comes from – we also source in Europe, where we travel direct for that.
We run our own warehouse, and keep quite a tight ship in terms of the team. It's been hard working remotely, but the team have done an incredible job to be honest. Everyone who's working now from the photo team, to graphics and content, to marketing, to customer support, finance, the whole fashion team – they're all very small teams, but each of the people within them has really contributed through the pandemic and done a brilliant job.
Techwise, we're running on Magento now. We use a tool called Barilliance that adds a ton of features to that, which I would really recommend to anyone who's focused on making customers happy. We use Satalytics too for that – that does the bit I mentioned – gathering satisfaction info from customers, flagging any issues, automatically opening support tickets where a VIP has hit a snag.
The C-level is quite small. We each focus on different things & try to make sure there's clear alignment. For example, Dan runs all the marketing, tech, BI, basically the ecommerce side of things. Zahir and I handle strategy, and the more finance elements, but through the growth of the company each of us looked after every area of the business at some time or other, which gives us a good overview without having to be in the detail. With each person in the team it's like that: Clear responsibility for a particular area, or particular set of activities.
We've used the pandemic to refocus on customers, make sure we're profitable, change around the offering to remove elements that weren't as neatly focused on customers as they should be. The period threw up lots of difficulty, but also in places opportunity.
Can you talk a bit about how things have changed over the pandemic?
Yes, well early on we noticed things had really dropped off. Our biggest market is Germany, and we could see from Google search trends that the whole market had suddenly dropped off: Customers were no longer searching for things like dresses. You could see it dropping off well before lockdown happened. We realised we were going to have to change things around. We have an office in the East, so had a bit of an idea about how things would go.
Following that, we made sure to be very careful. We reduced marketing spend, as customers weren't really in the mind to try new fashion brands at the start of the pandemic. For younger fashion, for loungewear, for activewear, brands in those spaces did really well. We were in a spot in the market where that wasn't the case. You can see it yourself – take a look in Google Trends for 'dresses' for example.
There was then a period where we looked at stock, and tried to reforecast where we might be, and what stock we'd need. And then we worked really closely with our banks, with our investors, and actually communicated a lot with customers to figure out what the best situation would be.
Over that period it became clear that the best thing for the company would be to try and restructure our finances, and to see if we could take it as an opportunity to refocus the company back around our customers as much as possible. That was a little risky, but we wanted to do the best thing by the brand, by the customers, and by everyone we'd worked with along the way basically – investors, suppliers, and the team.
And how has that situation ended up?
At the time it was a massive risk. We were going from being backed by some of the most connected investors in Europe, through to saying actually we'd take everything on ourselves once again. We formed a new company and acquired the assets in order to do that, and had to move contracts from the old company to the new. That was a big headache for me from a finance and organisational point of view, and was a big task for Dan and the tech and marketing teams. If you think through everything that means, from moving things like email marketing contracts, to literally payment providers that are integrated with the whole site, it's a big job, and then of course communicating that to all customers, especially as we're multilingual and still serve customers in dozens of countries all over the world.
But we planned it out meticulously in an extremely short space of time, and just worked through that. We made sure we talked to customers to make sure they knew what was happening, and that what we were doing was basically for them, and since then we've kept trading, trying to put them first.
The result is we're now profitable, our Net Promoter Score is above 70 (which is more than 50% higher than the average online retailer), and we've taken things from a tough position to putting the brand in a position of great opportunity.
What does the future bring? Investment again? An exit? Sustainable growth?
We plan to basically carry on with this path. We're in the position now where we want to put the customer first, then the team, and then ourselves. Most likely that means continuing as we are, growing at a pace so we can prioritise customers and stay profitable. We've been through the journey with investors before, so unless a partner or some sort of exit possibility came along that was perfect, and meant navabi could grow nicely, and make sure customers are at the heart of things, the journey continues from here.