Considered the 4th largest B2C e-commerce market in Europe behind Germany, the UK, and France, Spain boasts a thriving and rapidly growing e-commerce sector, which in 2018 was worth €27.96 billion — up 17 percent up from 2017.
While the latest figures are yet to be released, it was predicted that Spain's e-commerce market would increase to €33.56 billion at the end of 2019, which would account for 2.69 percent of the country's total GDP.
These figures are largely thanks to widespread internet use and smartphone adoption in the country. Internet penetration is at 86 percent, and it's estimated that 31.48 million of Spain's 47 million inhabitants own a smartphone. Creating conditions perfect for its burgeoning e-commerce industry.
Couple the above with the introduction of Amazon Prime in 2011, and the improved standards of logistics and widespread use of online services paved the way for online shopping to thrive in the Spanish economy.
According to Ecommerce News Europe, 62 percent of Spain's online population has shopped online. In 2016, 15 percent of those purchases were made via mobile, a figure that is expected to have risen significantly in recent years.
Spain's Top 10 Ecommerce Sites
The top players in Spain's e-commerce market are made up of quite an assorted range of brands. This includes the usual American mega brands such as Amazon and eBay, some European heavy-weights like Carrefour and Media Markt, as well as a bunch of local brands, making Spain one of the more diverse regions for e-commerce.
Spain also has a balanced blend of sectors in its top ten, including marketplaces, supermarkets, electronics stores, classifieds, sporting, and fashion stores. This mix indicates the diversity of demands from the Spanish population.
Beyond the top 10, this only becomes more mixed, with a range of smaller e-commerce platforms in niche segments, some pure e-commerce, and others extending their bricks and mortar presence through their e-commerce channels.
The primary product categories purchased in the Spanish e-commerce market are travel and hotels, ticket services, clothing, electronics, and food, with most purchase values ranging between €100 – €500.
For a closer look at the who's who of Spanish e-commerce, we have pulled up analysis from SimilarWeb to bring you the top 10, highest performing e-commerce sites in Spain.
Estimated number of monthly visitors: 186.49 million
Amazon is, of course, a US-founded superpower in the e-commerce sector. Making up the top 10 of pretty much every country's e-commerce high-performers, Amazon has had a foothold in Spain since 2006. Since then, Amazon Spain has become the 5th largest e-commerce site in the country and the 22nd largest e-commerce site in the world, indicating just how widely used this platform is.
With the launch of Amazon Prime in 2011, Amazon Spain cemented itself as a brand of power in the country, contributing to improved standards in logistics across Spain's e-commerce sector. Amazon now offers Spaniards everything including groceries, electronics, books, computers, housewares, tools, and more.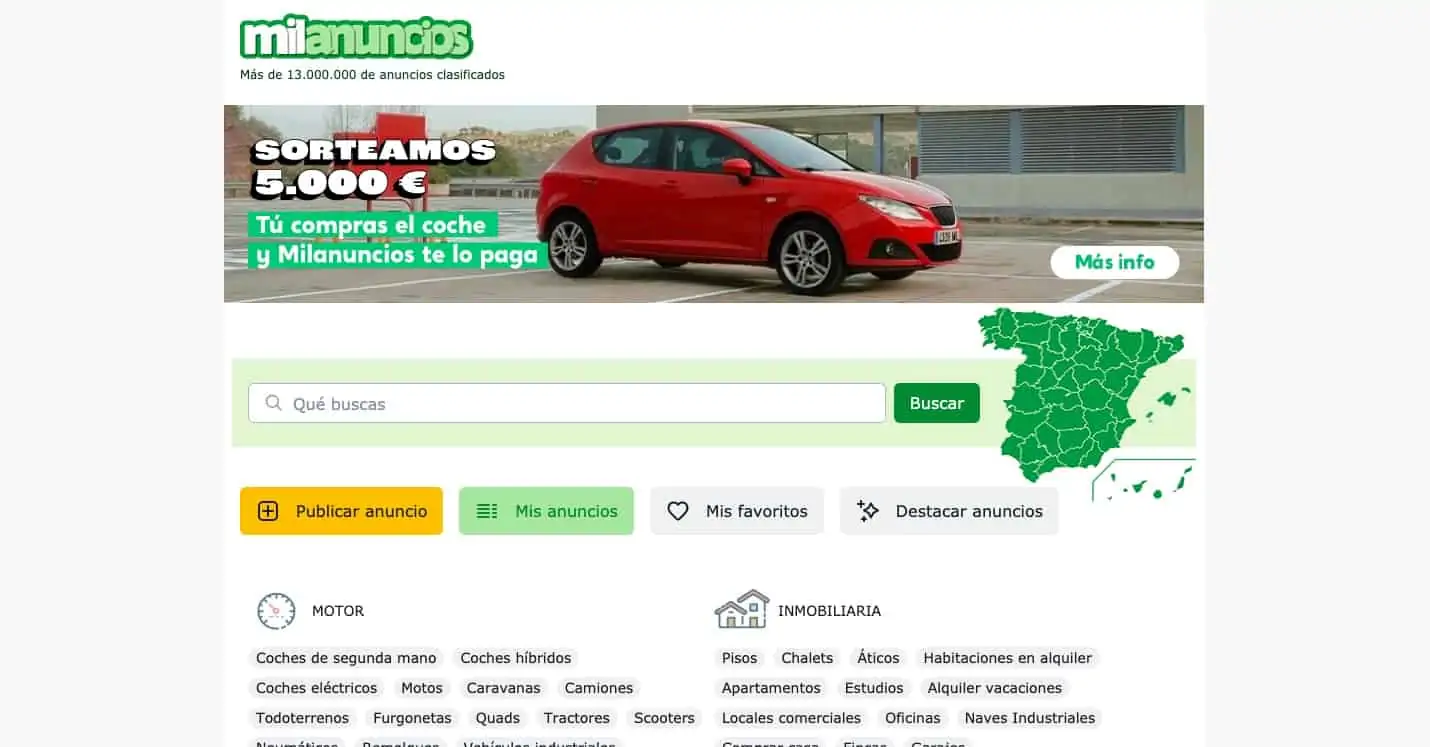 Estimated number of monthly visitors: 47.34 million
Milanuncios is Spain's largest classified site, which publishes upward of 85,000 ads every single day. Acting as a portal for buying and selling second-hand goods, posting and applying for jobs, seeking or advertising professional services, or real estate, Milanuncios allows users to post ads for free and acts as the transactor for confirming transactions.
Milanuncios services are divided into categories, including second-hand vehicles, second-hand electronics, job offers, classified ads, real estate, and more. Not only is Milanuncios the second largest e-commerce site in Spain, but it is also the 10th largest classifieds site in the world, making it larger than Gumtree in the UK.
Estimated number of monthly visitors: 39.79 million
El Corte Inglés is a Spanish chain of department stores that have been in the market since the 1940s, selling a diverse range of goods from designer clothes and fashion items, to household items, furniture, electronics, computers, books, sports equipment and more across almost 100 stores and through its high-traffic website.
Like many large department stores worldwide, El Corte Inglés has expanded to include a credit card line for customers to save more in-store, and their presence has spread to Portugal, where the brand continues to thrive. The Spanish site is most frequented for fashion and apparel items.
Estimated number of monthly visitors: 38.24 million
Based in China and owned by Alibaba Group, AliExpress is one of the most popular retail apps across mobile devices in Spain. The Ali Express app offers consumers the latest in fashion, electronics, phone accessories, home and garden, home improvement, home appliances, toys, tools, and more.
AliExpress is a specialized online retail store as well as a marketplace, allowing companies and individuals to sell via its platform, with the majority of sellers based in China and other parts of Asia, then selling to various regions, including Spain, where Spanish consumers enjoy the low costs of Asian goods.
Estimated number of monthly visitors: 27.06 million
Known to everyone worldwide, eBay is an e-commerce pioneer, setting up in the 90s as one of the world's first online marketplaces, giving it the headstart needed to go on to become the world's largest marketplace still to this day. Since its US debut, eBay has gone on to open online sites across more than 20 countries, including eBay Spain, which is currently the 5th largest auctions e-commerce site in the world.
Allowing Spaniards — individuals, and businesses — to buy and sell directly through its online auction platform, eBay Spain has become a wildly popular platform for selling and buying goods, everything from cars and vehicles, electronics and fashion, home and garden, sports and toys, all the way through to business and industrial products.
Estimated number of monthly visitors: 18.35 million
Carrefour, a French company, is one of the world's largest retailers, operating hypermarkets and convenience stores across Europe, South America, and Asia, as well as online across the same markets. Offering goods from groceries and fresh food, to home and hygiene products, clothing, media, entertainment and electronics, Carrefour provides a wide range of products to their consumers online.
Carrefour Spain has been in operation since the late 1950s, giving it a significant foothold in the country, and allowing it to be the largest online grocery store in Spain.
Estimated number of monthly visitors: 15.63 million
Media Markt is a German chain with a significant presence across Europe, including Spain, where it specializes in the sale of consumer electronics. With numerous stores across Europe, as well as an online presence in multiple countries in the continent, Media Markt has become one of the largest consumer electronics chains in the world.
Media Markt Spain offers consumers a range of goods, including computers, electronics, appliances, accessories, home entertainment items, and more.
Estimated number of monthly visitors: 10.46 million
Hot on the heels of Media Markt is PC Componentes, a Spanish-born online retailer of consumer electronics, including PCs, laptops, tablets, smartphones, gaming consoles, and electronic components such as peripherals, networks, cables, and various other related electronic products.
PC Componentes, which launched in 2005, operates only two stores in Spain, making it a primarily online organization, with an e-commerce presence that has also expanded to Portugal. Gaming makes up a large portion of the business, with it performing highest in the video games consoles and accessories category.
Estimated number of monthly visitors: 10.15 million
Decathlon is a French sporting superstore, with retail chains across multiple countries in Europe, as well as South America, Asia Pacific, and Africa. Offering goods to cover the needs of players for more than 90 sports, Decathlon has one of the most extensive ranges of sporting goods online.
Decathlon Spain has flourished as a go-to e-commerce site for Spaniards in need of sporting goods. The site allows customers to search for products by sport, women's, men's, children's, equipment or seasons, and offers goods from clothing and shoes to bikes, spikes, and any other type of sporting equipment you could imagine.
Estimated number of monthly visitors: 10.09 million
Leroy Merlin is a French-founded home improvement and gardening retailer with a global presence across Europe, Asia, South America, and Africa. As well as mega bricks and mortar locations worldwide, Leroy Merlin has an extensive online presence catering to the home improvement needs of customers all across Spain and other parts of the world.
Leroy Merlin Spain is the largest online home improvement retailer in the country, offering a comprehensive range of DIY equipment, construction items, decoration good, and garden products.